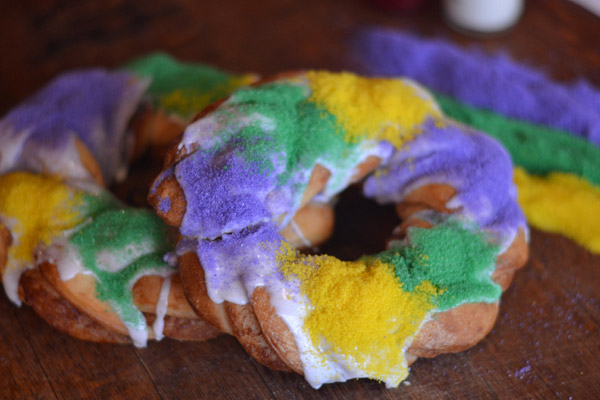 King Cake
Our king cake is flavored with cinnamon and served with a Louisiana strawberry preserve and cream cheese icing on the side.
Category: Desserts and Dessert Sauces

Serving Size: 12 slices / 2 medium-sized cakes
Ingredients
2/3 cup buttermilk
2.5 teaspoons dry yeast
4 egg yolks
1 whole egg
1/4 cup sugar
6 tablespoons melted butter
3 3/4 cups all-purpose flour
1 1/4 teaspoons salt
Instructions
Heat buttermilk until it feels warm to the touch. Whisk in yeast and let dough rest for 5 minutes. Add egg yolks, whole eggs, sugar and melted butter whisk smooth. Add flour and salt; mix with dough hook until just combined. Let dough rest for 10 minutes then continue to mix on low/medium speed for 8 minutes. Transfer dough ball to a large bowl that has been lightly coated with vegetable oil. Lightly coat top of the dough ball with oil then cover with plastic wrap to prevent it from drying. Leave dough out at room temperature for 1 hour then refrigerate overnight.
Cinnamon Spread
Ingredients
1 cup softened butter
2/3 cup sugar
1/4 cup powdered cinnamon
Instructions
Combine room temperature butter, cinnamon and sugar. Beat until light and fluffy.
White Chocolate Sugar Glaze
Ingredients
1.5 cups powdered sugar
2 1/4 tablespoons hot water
1/4 teaspoon vanilla extract
4 ounces white chocolate
Instructions
Melt chocolate gently in a bowl over simmering water. In a separate bowl, combine powdered sugar, vanilla and hot water then mix smooth. Add sugar mixture into melted chocolate and stir smooth. If mixture is too thick it can be thinned with hot water.
Strawberry Preserves
Ingredients
2.5 cups sliced strawberries
1 cup sugar
1/2 tablespoon lemon juice
Instructions
Combine sliced strawberries, sugar and lemon juice in a heavy bottom sauce pot. On medium low heat cook mixture until strawberries start to give off their juice. Turn heat up to high and cook until it reaches 216 degrees. Stir frequently. Pour cooked jam into a shallow pan to cool for a couple hours before refrigerating.
Cream Cheese Icing
Ingredients
1 cup cream cheese 1 cup butter
1 pound powdered sugar ¼ cup milk
1/2 teaspoon lemon zest
Instructions
Combine room temperature butter, cream cheese, lemon zest and sugar in an electric mixing bowl and mix on medium high speed until smooth. Slowly add milk and continue to mix until light and fluffy.
To Assemble The King Cake
Instructions
Roll dough into a rectangle about a ½ inch thick. Apply a thin layer of cinnamon spread onto dough. Fold dough in half lengthwise then gently press down to seal. Cut dough into 3 strips and braid. Stretch the dough strips slightly before making the braid and before forming the circle. Take dough braid and make a circle. Working on a sheet pan, fold and pinch the ends of the braid to close the circle. Tent formed king cake with plastic wrap, let dough proof until doubled in size. Approximately 2 hours. Preheat oven to 325 degrees. Brush top of king cake with egg wash and bake for 15 minutes or until golden. Spoon warm white chocolate sugar glaze on top then sprinkle with gold, green and purple sugar. Serve strawberry preserves and cream cheese icing along side warm cakes
Cooking Measurements
1 cup = 250 ml = 16 Tablespoons
1/2 cup = 125 ml = 8 Tablespoons
1/3 cup = 83 ml = 5.3 Tablespoons
1/4 cup = 62 ml = 4 Tablespoons
1 Pinch = 1/8 Teaspoon